As the interconnection pipeline between Zhongwei Station and Zhongwei Station 2 of the Middle Section (Zhongwei Ji'an) of the 3rdWest to East Gas pipeline project, the Zhongwei Station 2 project can effectively guarantee the safety, reliability and flexibility of West to East gas pipeline operation. The total length of the line is 26km, including 4 interconnecting pipelines and 6 rerouted pipelines with pipe diameters φ 1016mm/ φ 1219mm/ φ 1422mm, design pressure 10MPa/12MPa, automatic welding has been used, enhanced three-layer PE anti-corrosion, the construction site is located along Changle Town, Ningxia Hui Autonomous Region, which is dominated by plains and hills, with little topographic relief. The surface vegetation is mainly cultivated land and orchards. It successively crosses G70 Fuzhou Yinchuan Expressway, G338 National Highway and Yaoxian Valley.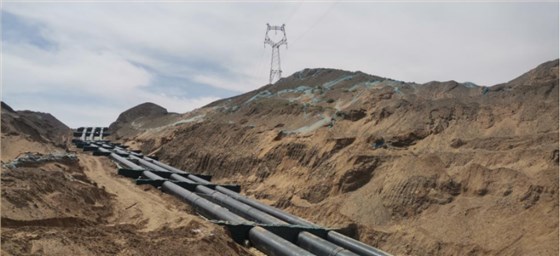 The 2ndcompany of CPP, the contractor of the project, is responsible for the construction. By adopting the technology of laying super large diameter pipes in the same trench, the project has saved 37.5% of construction land and about 12% of project investment. It has created new methods and new ways for protecting the ecological environment, saving construction land and investment to the greatest extent in the field of oil and gas pipelines in China.
The Zhongwei Second Station Construction Project of the 3rdWest to East gas pipeline is located at the construction site of Zhongwei, Ningxia, close to Tengger Desert, with fragile regional ecology. In order to reduce the disturbance to the environment, it is the first time to realize the parallel construction of three pipelines with a diameter of more than 1.2m in a 15m wide trench. The three pipelines in the same trench are two 1422mm pipelines and one 1219mm pipeline, which are laid in a 15m wide trench in parallel. The minimum pipe spacing can be shortened to 1.5m. The difficulty of this project is to pave and weld the 30 ° V-shaped trench of Daanzi ditch. This 30 ° gradient welding of large pipe diameter poses a great challenge to equipment and personnel. Xionggu technicians have made real-time welding parameter adjustments to 16 units of A-610 automatic dual torch external welding machines and 4 units of A-305 automatic single torch external welding machines that have been put into use on site to ensure that all welded junctions are qualified. The completion of the last pipeline in Xianzigou on July 30, 2022 also marks the end of the project.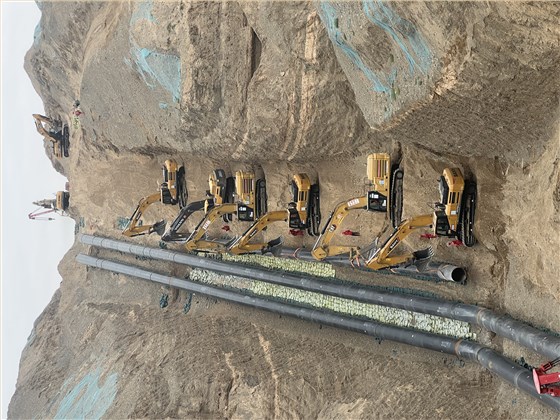 Fig.: Pipe Laying Site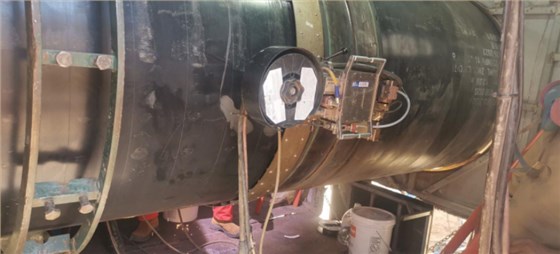 Fig.: Xionggu A-305 automatic welding machine on site